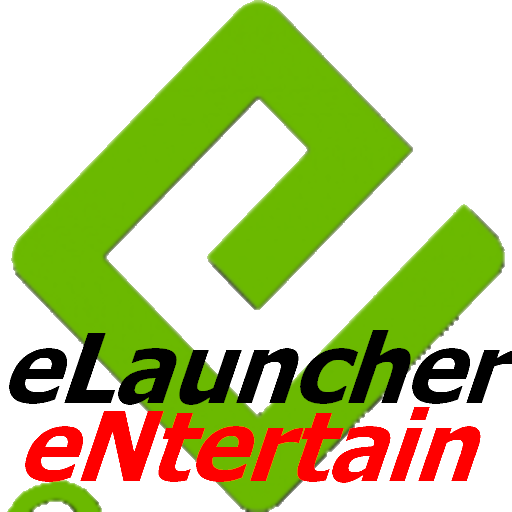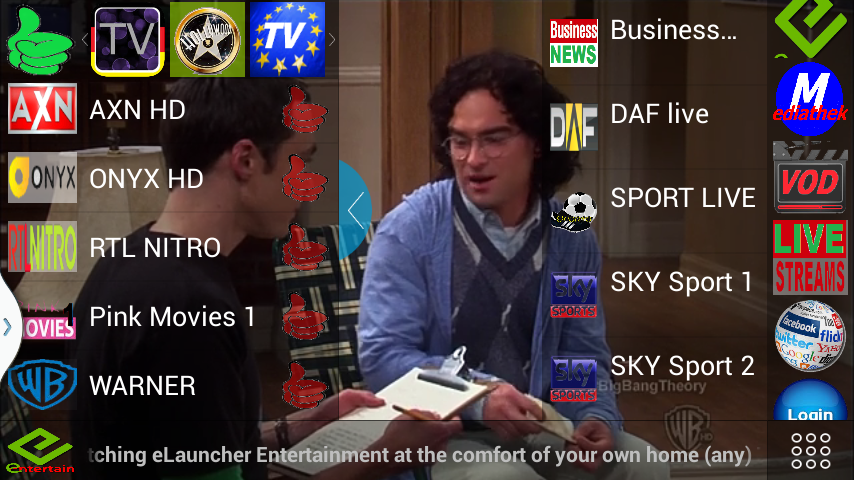 eLauncher (c) - eNtertain (c) Description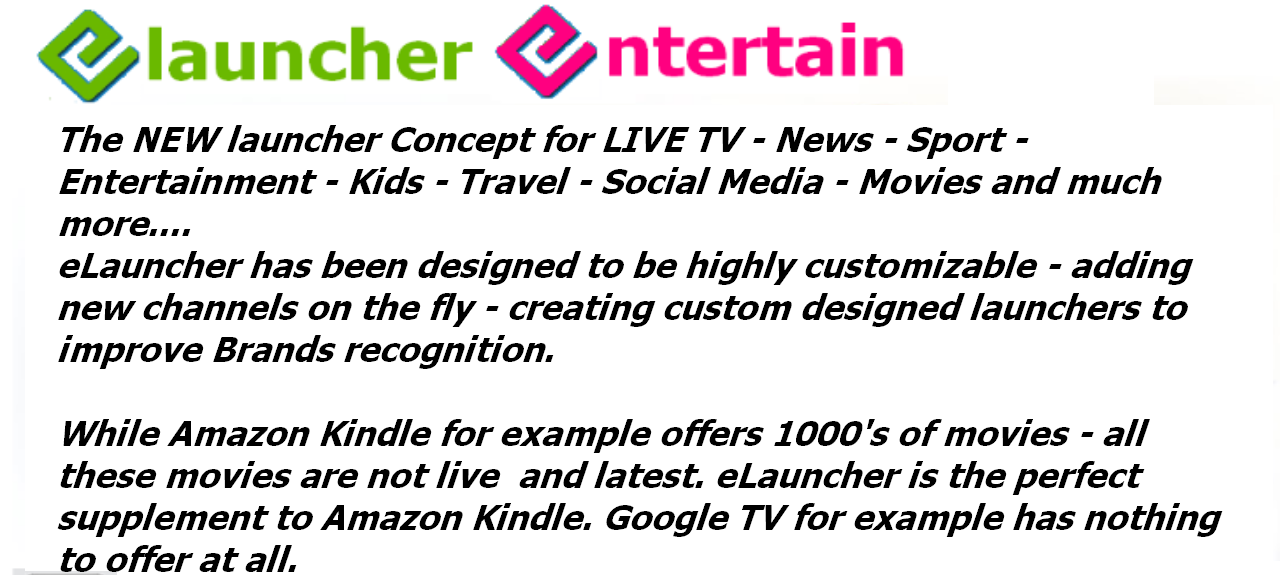 eLauncher digitales LIVE Fernsehen auf jedem Smart Phone, Tablet und JEDEM Fernseher.

Einmalig die PiP fumtion, erlaubt das sehen von 2 Kanaelen gleichzeitig ( PiP- Picture in Picture)

Erweitertes Kanal Angebot mit Kanaelen weltweit. KEINE territoriale Begrenzung, sehen Sie Ihre Heimat Fernsehkanaele LIVE UEBERALL auf der Welt. Ganz egal ob am Strand in Bali oder im Amazonas, stehts live verbunden mit der Welt, Nachrichten, Berichte, Filme, Sport, Musik, eben ALLES was das weltweite Fernsehen zu bieten hat. eLauncher arbeitet in 123 Sprachen.

eLauncher integriert mit social networks gibt diesen voellig neue Moeglichkeiten.

eLauncher wurde speziell entwickelt unter der Beruecksichtung diesen auf Amazon Kindle laufen zu lassen.

eLauncher funktioniert auch auf Blackberry Smartphones mit Android 4.1.x und hoeher, sowie auf allen Smartphones mit mindestens Android 3.0.X und hoeher.

Spezielle entwickelte Versionen erlauben den Betrieb als Android Laucnher in root.

Eine einmalige Installatiosngebuehr von 10 Euro, gibt lebenslage updates und zugriff zum eLauncher.
BESONDERHEIT: eLauncher kann Ihren speziellen Heimatkanal hinzufuegen,, kostenlos.

eLauncher ist auch die EINZIGSTE digitale (Software) "Box", welche fuer Privat Fernsehen erhaetlich ist. Bauen Sie Ihren eigenen privaten Fernsehsender kostenguenstig auf, und senden Sie unbegrenzte Kanaele weltweit digital aus.

eLauncher kommt mit Entertain, dem kompletten Unterhatltungsprogramm weltweiter Fernsehsender, Mediatheken, Video on Demand (VOD), Kino Filmen und mehr Unterhaltung.
Die spezielle eLauncher Smart TV Box ( benoetigt nur fuer aeltere Fernseh Geraete ohne Smart TV) gibt es nur fuer registrierte eLauncher Mitglieder fuer 85.00 (Euro), normaler Preis Euro 199.00.
eLauncher ist eine Entwicklung der SecureScrypt Gruppe in Deutschlnad, und alle Funktionen sind unter Copyright des Developers.

------------------------------------------------------------------------------------------------------
eLauncher digital LIVE TV on any smart phone, Tablet, and any TV.

Extended channel offering channels worldwide.

eLauncher is the only application with full PiP ( Picture in Picture) function, allowing to monitor 2 different channels at the same time.
NO territorial limits, see your home television channels LIVE anywhere in the world. No matter whether on the beach in Bali or in the Amazonas, eLauncher is live connected with the world, news, sports, events, films, music, everything what the global television has to offer.
eLauncher is crossplatform compatible and comes with social networks integrated and opens a whole new world of possibilities for social networks.

eLauncher works in 123 languages.

eLauncher is designed to run it on Amazon Kindle. eLauncher also works on BlackBerry smartphones with Android 4.1.x and higher, as well as on all smartphones with at least Android 3.0.X or higher.

Special developed versions allow the operation as Android Laucnher in root.

A one time installation fee of 10 Euro for lifetime updates and access to the eLauncher will be charged.
Special feature: eLauncher can add your special home channel free of charge. eLauncher is also the only digital (software) "Box", which is available for private television. Cost-effectively build your own private television stations, and send out worldwide digital unlimited channels.

eLauncher comes with entertainment, the complete Entertainment Program global television, libraries, video on demand (VOD), cinema films and more entertainment.
The extra eLauncher box turns turns even "Grandmother's TV" in a digital smart television miracle!

The special Smart TV DVB Box is only available for registered eLauncher members for Euro 85.00, normal price 199.00 Euro ( only required for Home Television Smart TV)

eLauncher is the only application that even allows so-called "rtmp" to play on Android smart phones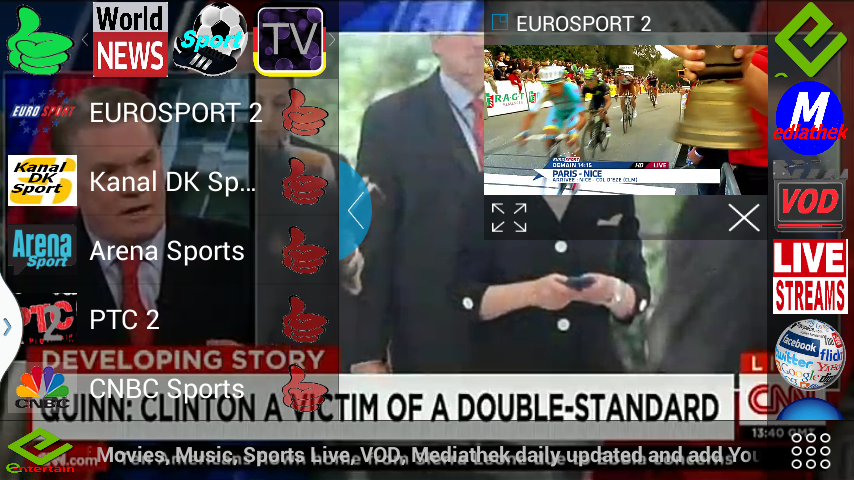 * sales price EUR 95.00 - Includes Free Software and TV channels, shipping at a value of 150.00 Euro
eLauncher is a development of the SecureScrypt group in Germany, and all functions are under copyright of the developers. SecureScrypt, Neoi, eLauncher, WOW and associated terms and names include the developer Bowitz (Germany) and are registered under a notary seal. You need more information, then request by email from: bernardbowitz@gmail.com or directly to: registration@elauncher.de
SecureScrypt, Neoi, eLauncher , WOW und assozieirte Begriffe und Namen gehoeren dem Developer Bowitz (Deutschland) und sind notariell eingetragen. Mehr Informationen gibt es durch email von: bernardbowitz@gmail.com oder eLauncher direkt : registration@elauncher.de